Day 5 – 7:30AM EDT, 10 TPM (Tweets Per Minute)…
Links: Day 1 – Day 2 – Day 3 – Day 4 – http://twitter.com/sol – http://solyoung.com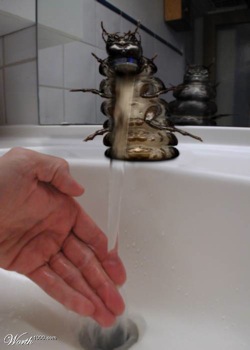 This morning's Twitter experience has found some bugs in the system. Last night I added a few hundred friends but didn't go through my email for add announcements… Doing that now.
Most of the friends I added have added me back – I think making it clear I'm not a spammer and that I genuinely want to participate and learn from everyone in a flow helps here. There are some bugs with Twitter's pages I've run in to.
As I go through my email I'm opening each person's add announcement and visiting their Twitter page to confirm I'm following them. It would be great if the email described one's own following status in relation to the new follower. As I visit a person's page which I know I'm following, it shows the "Follow" button. Huh? When I click Follow, it immediately shows Updates as being on. My following count increases too.
Perhaps there is a difference between follow requests from a page and from the XMPP request? Maybe the AJAX request for following a person is getting bumped by the followup request to have notifications on?
In any case, I hope I'm not annoying people with multiple add emails this AM. If you've gotten more than one announcement from me, I'd be interested to hear about it.
As noted above, the flow is presently at 10 TPM. I expect the speed will increase by about 50% by 9:00AM. It's pretty neat to see this kind of metric and have it readily available.