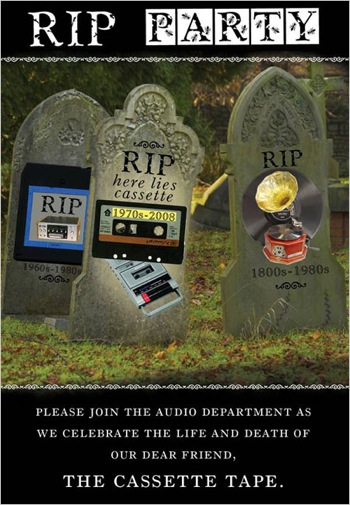 The New York Times published Say So Long to an Old Companion on the 28th of July.
The image above is the invitation from the audio department at Hachette for a party to mourn (read: celebrate) the passing of the cassette technology. Their final audiobook released on cassette was "Sail," by James Patterson and Howard Roughan in June of 2008.
Cassettes held out far longer for audiobooks than music because they allow the listener to resume wherever they left off, in any device that supports a cassette (getting harder to find these). CDs took up about half of the audiobook market and digital download is already looking to surpass CDs in music.
This is great for me and the team, working on audiobook digital downloads. Developing software distribution allows an amazing amount of flexibility and ease of use. Digital allows us to resume where the customer left off (benefit of cassette), as well as provide a deeper connection through metadata and images. Through our Zip process, we help make it easy to put the audiobook on a device such as an iPod, WMA player, Windows Mobile or PalmOS phone.
Kind of like ice sublimation, audiobooks will sublimate directly to digital. No need to stop at a usurped physical media.