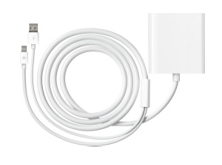 A Google search for Apple Dual-Link DVI yields a ton of product pages and blog posts about the greatness of Apple's use of DVI. You'll get quite a few of Apple's own product pages, as would be expected. But only a few blogs are calling Apple out.
Apple recently released a new MacBook Pro. It has the most advanced laptop graphics equipment on the market, with dual NVIDIA 9400M and 9600GT chipsets. Apple has also employed a new port type, DisplayPort, that is not the same as Mini-DVI or Micro-DVI. This is a port that is easier to plug in than DVI and supports HDCP (high-bandwidth digital content protection).
People with needs for the best processing horsepower on the go are going to pick up this laptop. These professionals, myself included, are going to be disappointed. If you're in to a high-end laptop like this you're probably also pushing 30″ monitors. If not, you should be. But you can't. The DisplayPort to Dual-Link DVI adapter doesn't ship for 4-5 weeks (and that's what they said on October 15th).
The image above is the dual-link DVI adapter from Apple. It's a DisplayPort plus USB plug to a DVI female. Why does a dual-link DVI adapter require the addition of a USB plug? Giving up that extra USB port hurts. Paying Apple $99 to move us to a new port type is insulting.
So what's with the delay? It doesn't take 4-6 weeks to manufacture cables with DisplayPort, USB, and DVI plugs attached (the site has displayed 4-5 weeks for 4 weeks already). Either development of, or problems in, the circuitry is derailing Apple's rollout. Or perhaps software driver updates will be required before the DisplayPort + USB adapters can be driven. If the latter, we would expect the adapters to ship at the same time as an OS update drops.
Apple, make this easy. Make it just work…
For more on DisplayPort see DisplayPort: what you need to know (Peter Cohen)
And for a little ridiculousness:
UPDATE: Another theory is that the chip for the adapter requires additional juice. The USB connector would simply be a power chord.