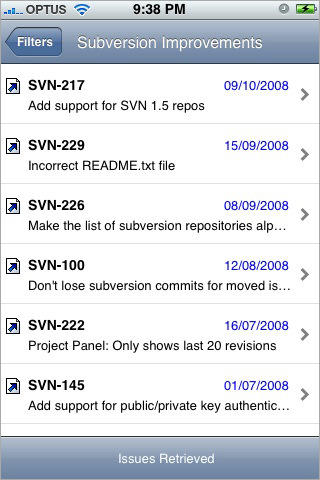 My dev team uses JIRA for bug tracking. It's a flexible project management and defect tracking system. As with almost any bug tracking system out there (Bugzilla, Trac, etc), web based defect tracking from a mobile handset is not very user-friendly.
Enter JIRA Mate (formerly JIRA Buddy), written by Shaun Ervine, an application for iPhone and iPod Touch specifically for interfacing with your JIRA database. I was surprised by this application being available before a Bugzilla rev, let alone even being available at all. I'm not complaining. Bugzilla fans should get a move on for their own app.
JIRA Mate simply uses your saved filters allowing you to access your JIRA issues straight from your iPhone.

Since JIRA Mate is helping out your business I guess you could write it off as a tax deduction :)
The app is $8.99 and allows you to pull down issues organized in filters you've created in the standard web app, sorted by date (your filter sort setting is not utilized). It does not have issue creation or editing capabilities, but does pull comments and allow you to comment in kind. It's perfect for keeping your finger on the pulse of your bug database and staying in communication via comments.