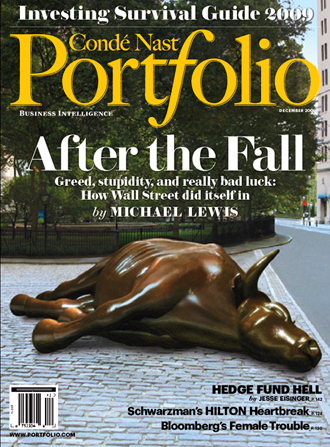 Michael Lewis's article The End is covering Portfolio's December issue. It's a fantastic read on his forecasting the death of Wall Street back in the eighties in his book Liar's Poker.
It highlights many of the insanities and irrational modes of operation amongst the firms of Wall Street and is an entertaining and solid I-told-you-so. I disagree that Wall Street is dead… But his insight shows us how things have to change.
The outrageous bonuses, the slender returns to shareholders, the never-ending scandals, the bursting of the internet bubble, the crisis following the collapse of Long-Term Capital Management: Over and over again, the big Wall Street investment banks would be, in some narrow way, discredited. Yet they just kept on growing, along with the sums of money that they doled out to 26-year-olds to perform tasks of no obvious social utility.
It's a must-read, here are links worth following along the way: