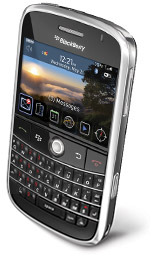 Just got an opt-in email from BlackBerry on the new BlackBerry Bold. Not sure if this is a "keep you hungry" note or more along the lines of "we're almost launching."
In the email:
"Stay tuned for more updates – we'll let you know when service providers in your region begin offering the exciting new BlackBerry Bold smartphone!"
Now it's down to "in your region" – no mention of carrier names and obviously no official release date. Curious if we'll see a July 11th iPhone 3G vs. BlackBerry Bold cage match.