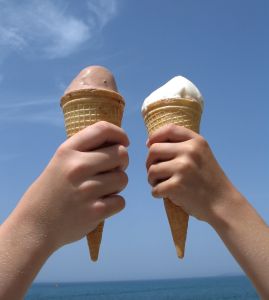 Twicecream – a fake service to demonstrate a point about single sign-on…
In web 2.0 there is a determination to screw up potentially great services. It's my number #1 pet peeve with software development these days. Here's a fictitious example of a service you might create…
You've built a service that automatically Twitters your geo-position and the name of an ice cream parlor when you're in front of it. Your phone buzzes when an ice cream parlor is detected and begins sending photos to SnapTweet and TwitPic, including Zagats ratings and commentary. Other patrons respond back and generate conversations. This is your social network: Twicecream – a social network for twittering ice cream enthusiasts.
In front of Ben & Jerry's on the Wharf, Zagats 4-stars, pics: http://twicecream.com/abc123
Congratulations! You just failed.
You didn't fail by creating a service few would use. You failed because you didn't utilize the authentication mechanism your patrons preferred. You built an unnecessary barrier to your garden by requiring an unnecessary account creation. Don't do this, it's arrogant and inefficient.
Your patrons have Twitter accounts. Twitter has an API. Your service should have asked the patron to log in with their Twitter credentials.
This isn't just for social networking. This goes for all web services. SaaS solutions that require secondary account creations are a bad idea. Single sign-on, whenever possible, should be used.
The whole idea is to simplify access to what the customer needs. If you're requiring unnecessary account creations, you're screwing it all up.