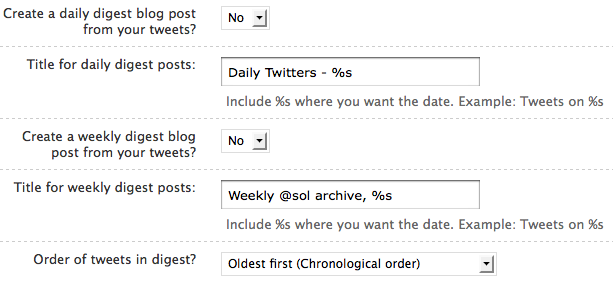 Twitter Tools, a WordPress plugin by Alex King, blew up my blog last night. For those of you following my RSS or Twitter updates, this meant you got 45 copies of a weekly Twitter update (and you would have gotten 8 more that were in the queue to be published if I hadn't caught it and shut it off – thanks @evantravers for the RSS heads up).
I like Twitter Tools very much. It's the first WordPress Twitter integration I used, and it's still my preferred way to go. It automatically sends a tweet when I write a new blog entry. A good, clean, way to let people know you wrote something you'd like them to check out. I used to use it for a list of my more recent tweets, but I've replaced that with a FriendFeed plugin.
In one of Twitter Tools more recent versions the feature of weekly digest posts of one's tweets was added. I wasn't hot on the idea of a daily digest since it would be too often and would ultimately just be a daily barf of one's tweets and wouldn't involve actual thought. The weekly was worth checking out so I played around with the settings (above pic).
If the setting for "Create a weekly digest…" is Yes, you are given a choice of day and time for your post. During my trial of the settings, I chose 11:59pm on Sunday night.
This was last week. I'd forgotten about it. This morning however, it blew up with the 45 posts. Pretty ugly bug!